New Jersey's Number One Resource For Commercial Flooring
Your business' floors contribute a lot to your productivity. The image your floors convey to your customers and employees will affect the work environment. That is why it is important to entrust your floors to New Jersey's most reliable source for commercial flooring, Finish Line Flooring Services. At Finish Line Flooring Services we strive to offer Riverdale and all of New Jersey businesses the widest selection of commercial flooring options available. Our installers are highly trained and skilled and get the job done right and fast. We always extend courteous and professional service and we make your satisfaction our number one priority.
Your flooring is one of the largest aspects to your work environment. It serves several functional, aesthetic and even psychological purposes. It plays a big role in the décor of your interior, which is of great importance if you operate a retail or showroom location that will be seen by people. Your flooring also helps set the mood and atmosphere for your employees, which will impact productivity in an office setting. Most importantly, however, your flooring bears heavy loads, supports high traffic and secures the safety and comfort of your staff and customers. No one understands the essential role your flooring plays in your business like Finish Line Flooring Services and that is why we are the commercial flooring experts.
Carpet Flooring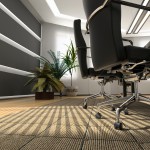 Carpeted floors are a classic flooring option that remains one of the most popular options for commercial spaces. Patterned carpet allows for vibrant and customizable design that will lend a modern and sophisticated look to your office.
Read More
---
Resilient Flooring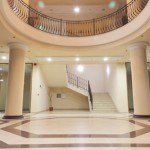 For businesses with high traffic areas, resilient flooring is key. Resilient materials like vinyl or rubber can withstand much more damage and weight than other flooring types while remaining comfortable and stylish.
Read More
---
Extras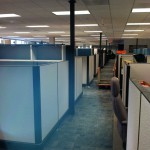 Flooring installation is only part of a business' flooring requirements. There are also specialty flooring options as well as maintenance and cleaning that are important aspects to a full service flooring product.
Read More
---
Floor Removal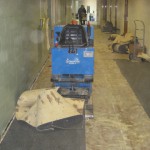 When it is time to replace your worn flooring, having a competent professional properly remove it is key. The floor removal process requires specialized equipment and skill to be done without unnecessary damage.
Read More
---
Floor Preparation
As important as removal, floor preparation primes the area for your new flooring so that it can be installed properly. This is an essential step in order for long lasting and safe flooring to be installed.
Read More
---
If you are looking for Commercial Flooring services in New Jersey then please call 201-803-4878 or complete our online request form.