Riverdale Floor Removal Experts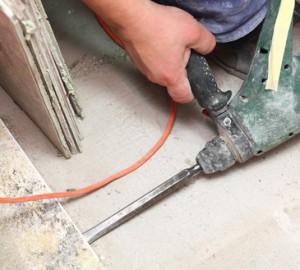 Removing your commercial flooring can be a challenge. With all the stripping, scraping and pulling involved, it is important to employ a competent floor removal professional in New Jersey to ensure damage is not done to your sub-flooring. Recycling salvageable materials is also a good way to save money. That is why you should pick New Jersey's best floor removal specialists, Finish Line Flooring Services. We've been serving local business owners with quality floor removal, replacement and installation since 2003. We have combined decades of experience in the flooring industry and are notable experts in the field. Our installers are highly trained and professional and we always get the job done on schedule and within budget.
With Finish Line Flooring Services's floor removal services you can trust that your floor will be uprooted properly with minimal damage to any reusable parts. We recycle what we can and are neat and orderly, careful to protect your property from our removal and installation processes. We utilize the latest technology in the way of removal equipment and we are extremely proficient in its use. From carpet pullers to floor scrapers, stripping machines, grinders and polishers; whatever the flooring type, we can remove it safely, quickly and efficiently.
Our New Jersey Floor Removal Professionals Provide the Following Services
Rip Ups
Tile Removal
Carpet Removal
Recycling
Recent Articles
When your flooring needs to go, don't hesitate to get it gone, or else you may find yourself dealing with a host of issues that render your home far less than comfortable. Of course, the quickest way to handle this work is to invest in timely floor removal work from our New Jersey team…
Commercial carpeting is made to handle high levels of foot traffic, day in and day out, which is one reason our commercial flooring company suggests that it's the best option for rental homes in New Jersey. Residential carpeting is made to face much less abuse and wear, and is made to last…
If you are looking for floor removal in New Jersey then please call 201-803-4878 or complete our online request form.