Quality Carpet Flooring In New Jersey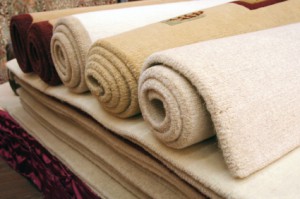 Many commercial spaces utilize carpeting as their flooring choice. There are several advantages to carpeting. For starters it is comfortable to walk on and stay upright on. Many retail stores that have sales associates that will be standing up for long hours take advantage of carpet for this reason. It is also safer ground to operate on. Slips and falls are cushioned by even the thinnest carpet. One of the most notable benefits to carpeting is its style and beauty. Commercial carpeting comes in just about every color, texture, style and pattern imaginable. That is why it is so customizable to your interior décor. A couple other less known advantages to carpeting for your commercial location are that it reduces noise and improves indoor air quality. The best way to figure out if carpet is the best option for your business is to call New Jersey's commercial carpet experts at Finish Line Flooring Services.
Since 2003 Finish Line Flooring Services has proudly served all of New Jersey with the most quality commercial carpeting in New Jersey you can find. We are dedicated to superior service and only use the finest materials. Our installers are competent and professional and work hard to finish the job on schedule to minimize installation time. We strive to offer you a great selection of carpeting options for your business.
Broadloom Carpet. Carpet made on a wide loom so that there don't have to be seams. This is an ideal option for big show rooms or other large areas.
Carpet Tile. Carpeted tiles are extremely easy to install and replace in case of damage. This type of carpeting is perfect for high traffic areas so when wear and tear demands reparations, you simply replace a tile as opposed to the entire carpet.
Pattern Carpets. Patterns lend a vibrant style to your commercial space. Want to breathe some life into your office? There are innumerable patterns to choose from.
Custom Rugs. Sometimes the best solution for your business is an area rug. With a custom rug you can have all the benefits of the style and vibrance that a pattern carpet offers, but without installation hassles. This makes it easy to change the style and design of your commercial space as quickly and easily as it takes to change out the rug.
Our New Jersey Commercial Carpet Experts Provide the Following Services
Commercial Carpet Installation
Carpeting Removal & Replacement
Commercial Carpet Cleaning & Maintenance
Flooring Tips From Your New Jersey Commercial Flooring Professionals – Finish Line Flooring Services
Recent Articles
If you are looking for carpet flooring in New Jersey then please call 201-803-4878 or complete our online request form.