Some Choices In New Jersey Commercial Carpet Flooring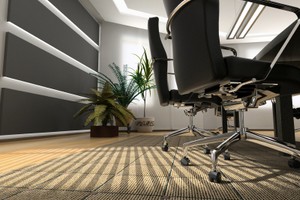 If you have a New Jersey business that needs new flooring, commercial carpeting is certainly a great choice. It softens the atmosphere, adds to the design, and dampens noise.
When it comes to commercial carpet flooring, a durable carpet is a must. The carpeting must be as durable as it is beautiful if it's expected to last. No matter how busy a business is or what type of business you own, the floors go through much abuse.
While it may seem like a better deal to install cheaper carpeting upfront, it costs more to replace it time and again than it does to install something that lasts longer.
Choices in commercial carpet flooring continue to get better and better. Not only are there better options in fiber materials today than ever before, there are also a wider array of color and carpet types available.
Here are some choices in New Jersey commercial carpet flooring you'll want to consider.
Synthetic Polypropylene Fiber – Olefin Carpet Flooring
If you choose olefin as your commercial carpet flooring, be sure you choose those in looped styles like berbers or level-loop. The reason for this is that olefin fiber doesn't have the ability to bounce back after compression.
With any business, heavy foot traffic is a concern. You'll want to install carpeting that easily bounces back after being stepped on over and over again. Also, while olefin resists liquid absorption, it doesn't do well with soil because it attracts oils.
Nylon Carpet Flooring
As a synthetic carpet, nylon is popular. It has a strong ability to bounce back after compression. It resists stains pretty well but only after it's protected with a stain treatment. The carpet fibers are highly durable which is why it's such a popular choice.
Woven Weave For Commercial Carpet Flooring
There are various methods used in carpet weaves. The weaving refers to extra carpet fibers being woven together into the backing. This gives the carpeting an extra plush thickness and strength.
Durable Commercial Carpet-Loop Pile & Plush Cut Pile Options
The pile weight and density is important in carpeting. Pile weight is a measurement of how much yarn was used to make the carpet. This is not the carpet density which is how close together the fibers are. A shorter, tighter looped carpet will wear better than a longer loosely dense carpet.
Synthetic Commercial Carpet New Options
SmartStrand® is a synthetic carpet which is being discovered by commercial businesses as well as homeowners as a great New Jersey flooring solution. The carpeting feels like silk but doesn't absorb moisture or soil. It is resilient and long-lasting. The fibers are made of ingredients which are 37% plant-based. It's easy to clean and the built-in stain protection lasts a lifetime.
If you have questions about commercial carpet flooring in New Jersey, please call Finish Line Flooring Services at 201-803-4878 or complete our online request form.