Freehold's Most Reliable Commercial Flooring Contractors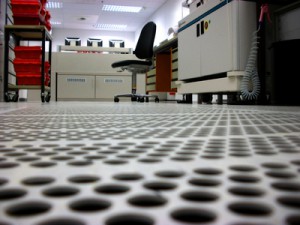 When your Freehold business needs flooring, don't entrust the task to anyone other than the best. At Finish Line Flooring Services we are the commercial flooring experts in Freehold. We've been providing local businesses with quality commercial flooring since 2003. We have a skilled staff committed to excellence as well as the proper tools and equipment to handle any size job. Whether you run a small specialty boutique or a multi-story hospital, we can get the job done. From patterned carpeting to glossy sheet vinyl, whatever your establishment's needs, we offer it. No one knows commercial flooring like we do and our track record proves it. With countless installations in the Freehold area we are dedicated to helping the local commercial sector grow one floor at a time.
At Finish Line Flooring Services we offer a wide variety of commercial flooring options. We offer carpeting in broadloom, carpet tiles and even custom area rugs. We also offer rubber flooring and other resilient flooring options. We don't stop at flooring installation either. We provide a number of flooring extras such as cleaning and maintenance of your floors as well as specialty flooring such as raised computer floors and stair treads. With every installation our focus is the design of your decor as well as the safety and comfort of your employees and customers.
Your Freehold Business' Best Option For Resilient Flooring
The type of establishment you run will dictate what flooring will best suit your needs. Whatever those needs are, Finish Line Flooring Services has you covered. For resilient flooring that is long lasting and durable, we provide the widest range of options. We offer vinyl tiles in every color and pattern imaginable. Our tiles closely resemble the beauty of ceramic tiles which will lend your establishment a chic and modern look. We also offer sheet vinyl for speed and ease of installation. Sheet vinyl is also extremely durable and water resistant. Rubber flooring is ideal for spaces where people will stand for prolonged periods as it is cushioned. Rubber is also waterproof, scuff-proof, fire resistant and static electricity-proof, making it the most durable for long-term purposes. Our staff is experienced and skilled and we also offer hospital grade installations for commercial flooring in Freehold that abides by the highest of safety standards.
Freehold Flooring Removal & Preparation Done Right
Save money and time by having your floor removed carefully. When your floors are removed and the sub-flooring is prepped properly, materials can be recycled and new flooring can be installed more easily. This is what you get with Finish Line Flooring Services. Our installers are trained and experienced to remove your old flooring without undue damage so salvageable materials can be recycled. Our high tech equipment then allows us to grind and shot blast the under-flooring to ensure maximum moisture control and no missteps with the new floor installation in Freehold.
If you are looking for Commercial Flooring in Freehold then please call 201-803-4878 or complete our online request form.