Fort Lee's Number One Resource For Quality Commercial Flooring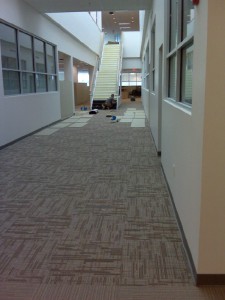 For commercial flooring done right in Fort Lee, there is only one choice; Finish Line Flooring Services. We have proudly provided the commercial sector of Fort Lee with high quality commercial flooring since 2003. Our installers are highly trained and professional and our commitment to excellence can be seen with every job. We understand your flooring is important and that is why we strive to offer a wide selection of flooring options at affordable prices. At Finish Line Flooring Services we can meet all of your commercial flooring needs. That is why we are Fort Lee's number one choice for commercial flooring professionals.
At Finish Line Flooring Services we offer a number of flooring options, from carpeting to vinyl floors, rubber flooring, raised computer floors and more. Over the years we have figured out how best to serve the commercial flooring needs of Fort Lee and cater our services to what works. From highrise office buildings wired with a computer at every desk to boutique shops to large auto dealer showrooms, we have the flooring options that fit. No matter how big your establishment, Finish Line Flooring Services can get the job done.
Resilient Flooring Professionals For Fort Lee Businesses
The reason resilient materials work so well in a commercial space is because it is exactly that; RESILIENT. Materials like rubber or vinyl are inexpensive, easy to install, endure heavy traffic and require very low maintenance. This allows businesses to worry about the business rather than the floors and long term durability can only mean positive things for the bottom line. At Finish Line Flooring Services we only offer the highest quality resilient flooring materials and have a wide range of styles, colors and patterns to choose from. We offer vinyl tiles and sheet vinyl as well as rubber flooring, all of which are water resistant and scuff resistant. These types of floors are easy to clean and maintain and extremely affordable as well as safe. At Finish Line Flooring Services we also offer hospital grade installations. We implement the highest safety standards while also offering the desired design for medical facilities and other highly sanitary environments.
Floor Removal & Preparation in Fort Lee
The delicate process of proper floor removal and preparation will save you money and time if done by a skilled professional like Finish Line Flooring Services. Removing your old floor without undue damage while salvaging recyclable material is our focus. We utilize the latest technology in grinding, shot blasting and carpet pulling equipment. Our rip ups are safe, efficient and fast and we skillfully prep the sub-flooring, leveling and cleaning it off all debris, so that you have a smooth and uncomplicated new floor installation in Fort Lee. A proper removal and prep will not only save you money but also improve moisture control as well as other future maintenance issues. At Finish Line Flooring Services we adhere to a strict philosophy that the job is best done when done right the first time.
If you are looking for Commercial Flooring in Fort Lee then please call 201-803-4878 or complete our online request form.