Parsippany Commercial Flooring Professionals You Can Count On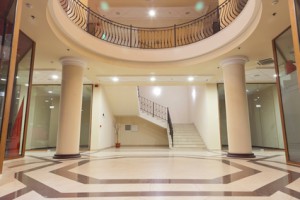 When it comes to commercial flooring, nobody does a better job than Finish Line Flooring Services. From small retail shops with broadloom carpeting to entire hospitals with vinyl tiles, Finish Line Flooring Services can get the job done right for your Parsippany establishment. We have proudly served the Parsippany commercial market since 2003. We have built a solid reputation on high quality commercial flooring and continue to do so with a strong commitment to excellence. That is why you should only choose the best for your Parsippany commercial flooring project; Finish Line Flooring Services.
We strive to offer a wide array of commercial flooring options. We offer carpeting, vinyl flooring, rubber floors, stair treads, raised computer floors and hospital grade installations. We can do new construction installation as well as floor removal and replacement. We utilize vertical lift technology for occupied spaces to save you money with a floor replacement and we only work with the finest materials. Regardless of the size or scope of your commercial space, we are the flooring contractors in Parsippany that can get the job done right.
Resilient Flooring Installation In Parsippany; On Time & On Budget
Your commercial space needs good floors. A space that can take a lot of weight and traffic from people or equipment, while staying clean and in good repair. That is why at Finish Line Flooring Services we offer high quality resilient flooring. With resilient flooring materials such as vinyl and rubber, you get durability, long lifespan and resistance to many elements. Vinyl tiles imitate beautiful ceramic tiles, so they have a fantastic aesthetic appeal while providing great tread resistance. Sheet vinyl is light and easy to install, which reduces costs. Rubber flooring is waterproof, scuff-proof, fire resistant and doesn't carry any static charge. It is also slightly cushioned allowing for increased safety and comfort. We also offer stair treads and hospital grade installations for the highest standard in flooring safety.
Safe & Efficient Parsippany Floor Removal & Preparation
When replacing an old floor, one of the first and most important steps is removing it. The removal process can be messy and damaging, and missteps can lead to added costs. With Finish Line Flooring Services you don't have to worry about that. We pride ourselves in expert floor removal and preparation in Parsippany. We have invested in the latest equipment available for the safe removal of flooring as well as prepping the sub-flooring for new installation. Our installers are skilled and precise, so we are able to recycle much of your old flooring materials. We strive to be a full service flooring contractor, so we handle the floor removal, grinding, shot blasting and prepping for installation. We're with the process from start to finish.
If you are looking for Commercial Flooring in Parsippany then please call 201-803-4878 or complete our online request form.