Floor Preparation for Hardwood Floors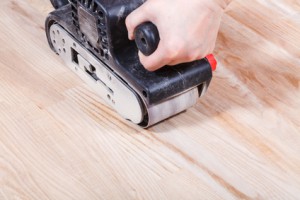 When it comes to properly installing hardwood floors in your New Jersey home, laying the planks is only part of the process.  To prevent loose flooring, cupping, gapping, squeaks, and costly problems down the road, it is critical to spend time on the floor preparation phase.  The floor preparation must meet four key requirements to be complete: clean, level, dry, and structurally sound.
Clean
In order to insure a level floor, it is important to make sure that any debris is completely cleared from the subfloor. This is especially important for flooring that will be glued in place. For this type of installation the subfloor will need to be stripped of wax, glue residue, or any type of coating that will affect traction. For nailed in flooring, the wax or coating can stay as long as the surface is even.
Level
To minimize movement and creaks, all low spots and humps must be made even and secure. Just because the subfloor is flat does not mean that it is level.  Leveling requires thorough examination of the entire surface and can reveal several different problems with the subfloor that may need repair including excess moisture, rot, loose boards, and structural weakness. These problems will need to be addressed during the floor preparation phase, before the wood flooring is installed.
Dry
You're likely well aware of the havoc moisture can wreak on wood surfaces so it's a no-brainer that the subfloor should be completely dry before wood floors are installed. Moisture kits can determine the level of moisture in the subfloor with a high degree of accuracy. Different wood floor planks can handle certain levels of moisture, but care should be taken to make sure no moisture is present at the time of installation. A layer of underlayment will act as added protection to absorb any minor levels of moisture from reaching the wood.
Structurally Sound
Be sure that the subfloor is sturdy enough to support the hardwood flooring. Damaged boards should be replaced, loose and squeaky boards should be screwed to the floor joists, the integrity of the concrete subfloor should be checked, and wood subfloors should be the appropriate thickness for the wood being installed.
The best way to insure that the floor preparation has been done thoroughly enough for wood flooring installation is to call a professional. The pros at Finish Line Flooring Services take the time and use the proper equipment to make sure floor preparation is performed correctly before any New Jersey flooring installation, thus insuring a quality installation every time.
If you are looking for floor preparation in New Jersey please call 201-803-4878 or complete our online request form.